Family, Friends & Support People

Supporting an Autistic Adult in Grief
The information in this portal is presented to assist family, friends, and direct support professionals (DSPs) who are supporting an autistic adult in grief and loss. These resources can help you communicate news of a death, plan and prepare for events that may happen after a death, and better understand grief.
In the summary below you will find links to topics that may be relevant to the unique situation and needs of the autistic adult in your life. Each person, situation, and grief response is unique: please tailor these tips to meet the expressed needs of the autistic person. You will find further information and guidance in the attachments, resource pages, and social stories linked to this portal.
Bill Gaventa shares his advice for communicating with an autistic.
What to Do Immediately After a Death
Communicate Clearly and Honestly
Share facts about the death in a safe space with trusted people, if possible, and allow time for processing the news. It may be necessary to repeat the information.
Avoid commonly used phrases that may not be logical to the autistic person, such as "passed away" or "went to be with angels" or "is in a better place."
Understand that an autistic person's reaction to news of a death may differ from a neurotypical person's reaction. This may include having no reaction, repetitious vocalization, sensory overload, pacing, laughter, or other self-soothing behaviors.
Absence of a reaction or an unanticipated reaction does not indicate that the person is not shocked or upset, did not hear, or does not understand the information.
If social stories have been helpful in the past, they may be the best way to communicate concepts related to the death. Click here to read, download, and share social stories related to death and grief.
Provide Support
Give the autistic person time and space to absorb news of the death.
Honor preferences of anyone receiving death information. If you aren't aware of these preferences, ask. For example, if the person does not like physical touch, don't hug them.
If support will be available, reassure them that family and friends will be there for them if and when they want that support.
Understand that many autistic people have a need for routine. While news of a death may be disruptive and disorienting in multiple ways, maintaining order (such as with a daily schedule) could provide an important anchor amid so much uncertainty.
Click the button below to learn more about communicating the news of a death.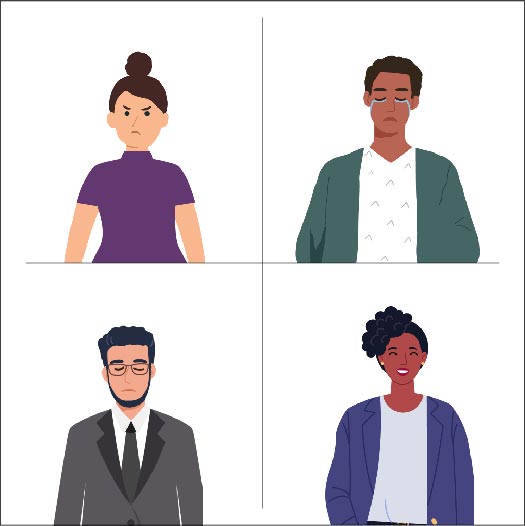 Understanding Grief
Grief is a reaction to the loss of someone or something with which we have a bond. Unless someone's grief reactions are harmful to themself or others, there is no right or wrong way to grieve.
Whether autistic or not, there are commonalities in the grief experience, which are described below.

Grief is as individual as a fingerprint. Click here to learn about the differences in how we grieve.
Grief doesn't follow a timetable.
Grief can trigger physical, cognitive, behavior, and spiritual challenges. Click here to learn about the role of spirituality and religion in grief.
Grief can occur before a death, such as during a long illness. Click here to learn about supporting an autistic person who is coping with a loved one's serious illness.
Grief, in some situations, can be prolonged or complicated.
For adults on the spectrum in particular, grief may cause a multitude of responses and remind them of previous deaths or non-death losses. Grief responses also may be affected by other challenges, including levels of cognitive understanding and communication abilities.
For autistics and neurotypicals, expressions of grief may involve behavioral changes, expressions of regression and anxiety, and/or physical reactions such as nausea, pain, or insomnia, or no outward changes at all.
It is important to acknowledge the grief of an autistic adult, which may be overlooked, ignored, or misinterpreted because it presents in uncommon ways.
Grief, perhaps especially for autistic people, is not confined to responses to the death of a loved one. Losses of objects, passionate hobbies, and unexpectedly important people in their lives can also trigger grief reactions. Click here for more information on non-death loss.
For everyone, grief is often experienced like a roller coaster ride, with ups and downs, highs and lows, and good days and bad days. Click here for suggestions to support your loved one's experience with grief.
As the grief process unfolds over time, there are many concrete ways that people can choose to be reminded of someone they love. The Grief Journey includes some ideas to help an autistic adult remember a deceased loved.
Surges in grief can occur months and years after a loss; this is not unusual. However, if the intensity of grief is still impairing one's ability to function at previous levels after six months, seek advice from a grief counselor, or the autistic adult's therapist, psychologist, or psychiatrist. Click here for tips on finding professional grief support.
Click the button below to learn more about grief and ways to ensure the autistic adult you care about feels respected and validated.
Denise Rollins talks about her son's decision not to attend a funeral.
Planning for Events to Memorialize the Deceased
Communicate and Provide Options
Rituals following a death often have deep significance, including to those with autism. Keep the autistic individual informed about post-death event preparations and involved with planning to the degree possible. See the end of this section for a template you can use to make a schedule of events with them.
If death rituals, such as a wake, shiva, funeral, or memorial service occur, offer ways for them to be involved.
Prior to an event, consider sharing information about attendance, photos of the place where an event will be held, and/or a timeline of events.
When an autistic person is planning the event, offer to provide support as you would for anyone. For example, you might ask if they would like companionship or help when making arrangements at the funeral home.
Social stories can help someone understand and anticipate what these rituals may be like, providing a level of comfort. Click the download link in this section to read a social story about planning for a funeral.
Do not try to force someone to attend an event. It may be possible to arrange for other options such as online participation or a private ceremony. While self-determination and inclusion are valuable, some situations may be too upsetting or stressful to be beneficial.
Some autistic people may want to commemorate a deceased person's life in a non-traditional way, such as visiting a special place to remember the deceased. Support those meaningful efforts or activities if you can.
Visit the Faith Ritual Guides for descriptions of common rituals observed by several major religions, as well as typical secular rituals.
Click the buttons below to learn more about rituals, to see a template you can use to make a schedule for death-related rituals and events, or to download a social story about preparing for a funeral.
Rachel Minnaar talks about her pet's death.
Animal Companion Death
For autistics and neurotypicals alike, the death of an animal companion can be as significant as the death of a human loved one.
Grief reactions may be similar to those experienced in response to the loss of a human companion and may even be more intense.
Family, friends, and support professionals should be sure to validate the importance of the loss of an animal companion and the grief it causes.
Click the button below to learn more about helping an autistic adult cope with the death of an animal companion.
Cantor Linda Sue Sohn provides suggestions for grievers.
Caring for Yourself
If you are supporting someone who is grieving, you are a caregiver—and you may be grieving, too. Being a caregiver is tough. Grief is also tough, and it can affect any of us in many ways: physically, emotionally, cognitively, and spiritually.
Be mindful about caring for yourself as you would for others by monitoring your physical and mental health, seeking support from trusted others, and acknowledging when professional help may be necessary.
Helpful Resources